Coffee Carts for Hot Sales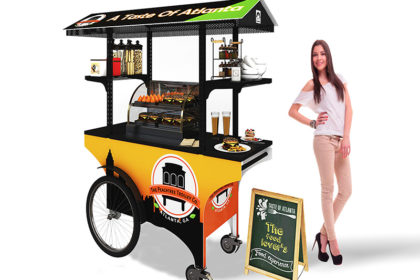 ★Coffee carts and Coffee Kiosks for sale
★Indoor or outdoor street applications.
★Commercially designed and manufactured
★Mobile coffee Sinks.
★Push carts come in any colour you wish
The dimensions of this portable coffee unit, (height and width), allow our mobile units to be moved easily from location to location.  Our coffee units are designed and manufactured for mobile sales. You can move these mobile push cart unit between building floors, up and down elevators serving coffees, pastries or retail goods. This mobile unit breaks down into separate components. Beautiful push cart detail and styling. Most units have locking storage below, push handles on one end, chrome upright posts, striped canopy and rubber bumper counter top. We can make a custom coffee mobile carts for you in any size you wish, 8 x 4, 6 x 3, x 5 or smaller or larger.
Mobile units generally do not have electrical built in as the mobile cart obviously has to be moved from location to location. Cart-King can however provide electrical outlets to your mobile unit if you wish so you can plug your push cart in when you have arrived at your location. Mobile coffee carts application's are usually simple and straight forward.
Hospitals, Airports, Office building are all examples of where push carts can be used. For more information view the video below outlining the variety of push carts we have… Move this unit from floor to floor in any office building or hospital. You can vend coffee, espresso, cappuccino, food, and pastries.
Customers Also Liked