Concession Trailers For Sale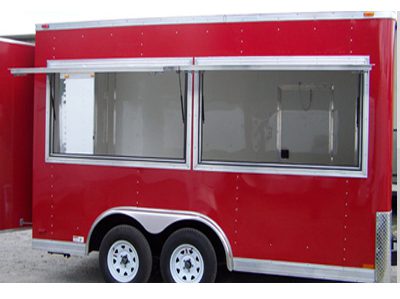 Our food concession trailers for sale, are a fantastic way to pull profits and people. This beautiful concession trailer was built in a 7 x 18 format. This "food concession trailer" is chalk full of features and food safe fabrication. This "mobile concession trailer" has 2 large windows for food service and customer interactivity. The windows close at nite and lock in place as to be secure and safe. The unit has a vent on top pf the roof to let hot air blow out and a locking entry way door on one side. The unit shown is similar to a concession food stand, with wheels, and comes in just about any primary color available, red, blue, white, yellow etc.
The concession trailers for sale – we make, (shown in image) has a insulated core wall, food safe counter tops and food safe walls, the floor is vinyl. The, concession trailers for sale, are very easily cleaned, in fact you can spray it out with a hose if you have ample weather to dry it out. This concession service trailer also comes with a self contained sink unit if you so desire. The self contained sink unit has 4 stainless steel sink basins and pumps, heaters, and motors to provide hot and cold running water. The self contained sink has a clean water tank and a grey water tank. The concession trailer can be outfitted with any type of power requirements or equipment to turn the trailer into a kitchen suited for any food imagine. These concession trailers may have stoves, ovens, grills, burners, microwaves etc.
Call us today at Cart-King International. 1-877-986-7771.
Customers Also Liked