Self Contained Sink Units
/
Monday, 22 April 2013
/
Published in
$1-10,000
,
Coffee Pushcart
,
Concession Stands
,
Food Carts
,
Food Pushcart
,
Food Stands
,
Food Vendors
,
Mobile Food
,
Pushcarts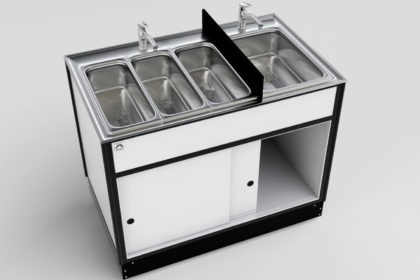 This self contained sink unit is perfect for applications where you need running water and do not have access to plumbing. The portable hand washing and utensil washing sink has four basins to satisfy all health codes. The unit has a pump, heater, thermostat and two 5 gallon reservoirs, one for fresh water, the other for grey, (used), water. If you need more water supply we can simply provide larger reservoirs for this self contained sink unit.
The mobile sink units come is a variety of colors and sizes depending on what your needs are. These self contained sinks can be used with any of our food carts for sale or kiosks and can be modified in color and/or graphics to match your cart or kiosk.
These self contained sink units are for your food cart business, units can come in a multitude of different configurations and materials. 1 basin to 4 basins, stainless steel, aluminum or plastic bodies, with wheels or without. The beauty of these units is the ability yo use them with any of our carts as a "add-on" to turn any of our carts or kiosks into a food safe, nsf approved food cart with hot and cold running water.
Features, (for a standard 4 basin sink)
–  Double Faucet – 4 Basin Sink – NSF Approved.
–  No onsite plumbing needed.  Just plug in 100 volt power source!
–  Fresh water five gallon tank,
–  Seven gallon grey water tank.
–  2.6 Gallon Hot Water Heater (up to 149 deg)
–  one or two faucets. 1 for hand-wash and 1 for the 3 additional sinks..
–  Sink basin sizes 24″L x 9″W x 6 D" (other sizes available)
Hand wash sink 24″ x 6″ x 6″.
–  Back flow protection.
–  Auto shut off pump feature
–  Pressure valve.
–  Other options: Soap Dispenser, Towel Holder, Casters.