Espresso Carts & Kiosks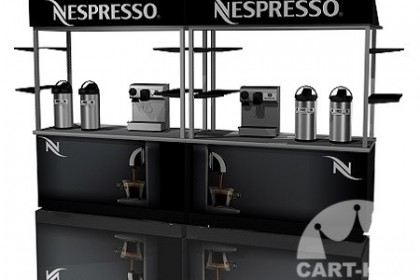 Our espresso carts and kiosks are low cost alternative to many other options. The unit shown was designed for Nespresso Coffee and is a double unit consisting of two carts made of steel.  Our Branded coffee and espresso carts are  large, steel Cart units designed to sell coffee, food and retail.  This coffee carts stand is totally customizable with your colors and graphics. The cart comes with 8 large adjustable shelves, locking casters and lock-able storage. Most importantly, these mobile coffee carts are in stock now!
This fresh new mobile coffee carts a is a great way to display just about anything for retail or food or coffee applications. These units have a modern design, we can make this unit it any color you wish. These units are perfectly engineered to provide a reflecting double unit. You may situate these coffee carts in any indoor or outdoor applications.  Use them together, use the push carts apart, or across from each other. These push carts can even fit together to form a large wall presentation. Or a push carts island with the "widths" pushed together.
These fresh new espresso cart vendors are an excellent design and are a great way to display just about anything. These can be used in just about any application at just about anytime, they are a perfect sales component to any company wanting to derive more sales and revenue. This cart set of retail RMUs unit has a modern horizontal and vertical design and can be made in any color you wish.
Customers Also Liked