Food Cart Supplier and Builder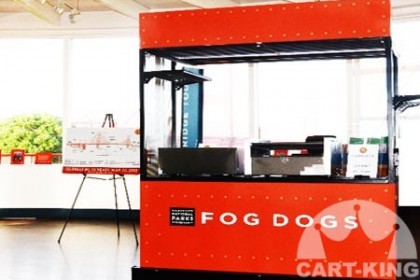 Custom Food Cart Building and Supply
We manufacture custom mobile food kiosks and
food carts for sale
for every need. The unit shown was fabricated  made for the San Francisco Golden Gate Bridge. Cart-King is a leading design and manufacturer of high concept street cart designs and manufacturing. Whether you are wanting to sell hot-dogs, beverages, coffee or food, this unit does it all. We will help you compare  the basics in beautifying your street vendor. The unit is manufactured in stainless steel or welded aluminum, (your choice). This food cart for for sale is a "generalized unit",
we can manufacture exactly
to your needs.The posts and canopy make-up the vertical structure. The canopy is made from Sunbrella awning material and comes in any color of colors under the sun. The posts are removable and will allow for the canopy to be removed for storage or transport. Mobile food carts for sale from Cart-King Operators are selling food service items across the board.
Crepes, whales tails, sno cones, hot dogs…anything "yummy"!
As we are a custom food cart supplier, this unit can have strategically placed two "eye-level" shelves for you on all 4 posts for a combination of eight highly view-able areas for product display. The unit also has 6 lock-able casters which allows the vendor to move the unit from one place to another to take advantage of changing customer traffic trends. Cart-King International has been manufacturing and delivering carts and kiosks such as this outdoor food, beverage and retail kiosk for over 10 years. We specialize in outdoor retail, food and beverage carts and kiosks, see below for further information on this beautiful hand crafted kiosk.
Our food carts for sale come as is, or we may design it around your needs. Each unit can contain refrigeration, freezers, grills etc. We can manufacture and design for any application. Some cart display units can be very large, in this case they are called concession trailers or food concession units. The above unit may come with fully operational self contained sink units. 
When you want to get serious about a food carts for sale, call us. These sinks are NSF approved for "food service" operation. 4 Basins is what is required in most states so please do your homework. We will employ whatever design concepts you wish as it is your custom kiosk. Cart-King International has been in business 15 years and enjoys a wealth of prior success. Please call us today for more information on our cart display concepts.
6 x 3 foot print
4 basin sink
food safe unit
fridge and freezer option
Point of Sales Area
LCD Advertising Screens options
locking storage below
 OPTIONS:
We can provide custom colors and graphics Canopy/Roof can be any color or style
base color can be any color you wish
Customers Also Liked