Food Carts for Sale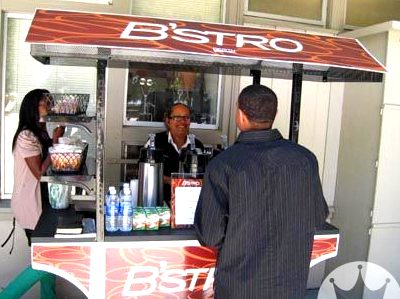 Food Carts for Sale to Fulfill Your Tasty Needs
A sample of our food carts are shown below.  Our carts come in a variety of food vending configurations and price points. Our food sales vendor's are made from aluminum or powder coated steel. The units can be accompanied with electrical, lighting, a fridge, freezer, fryer, coffee or espresso machines.
Food carts as of late have proven to be excellent sales generators. They can be used on streets, parks, theme parks, office buildings, arenas etc. Cart-King has been designing and manufacturing food carts portable and mobile for over 13 years. Our experience in dealing with multiple applications and materials is something that our customers really appreciate. We have made units for Krispy Kreme donuts, San Fancisco Golden Gate Bridge, Disney, Segway etc.
The units can be designed and manufactured to fit any indoor or outdoor application. The popularity of food cart business revenue is ever present and a growing business prospect. Any mobile food business is perfect for multiple indoor or outdoor applications. The recurring revenue of the food kiosk or cart sustains business growth. our food units are designed to provide the most sales power at the best budget cost. A well thought out food cart business idea will keep your customers keep coming back!
Our food carts for sale come in a variety of sizes, materials and colours. Most units are built to provide the "maximum amount of sales service" in a small footprint. Self Contained Sinks: The unit also has an "add-on" self contained food cart sink. This unit contains all the requirements of a large food cart, but in a smaller package. Small but potent for sales, such as hot-dogs, coffee, espresso, popcorn etc. You can sell virtually any food cart items with refrigeration, power, and running water. Call Cart-King today to get a run down on our pricing. In general terms the unit show above is:
– Cart with branding: 4,899 USD
– Matching branded self contained 4 basin sink:  3,499 USD
– Additional display menus: 499 USD each
– Under-counter Fridge: 899 USD
Customers Also Liked