Information Service Kiosks
/
Monday, 22 April 2013
/
Published in
$20,001-30,000
,
Coffee Pushcart
,
Concession Trailers
,
Food Pushcart
,
Food Stands
,
Food Vendors
,
Mobile Food
,
Outdoor Retail
,
Pushcarts
,
Retail Display
,
Retail Pushcart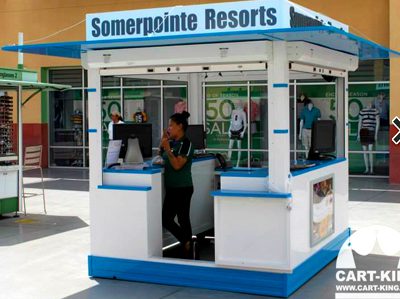 All Aluminum Information Service Kiosks
This all-weather outdoor kiosk unit is perfect for vending information food, coffee, or retail sales. Designed for Somerpointe Resorts. One can also vend retail good or information to customers and clients. The kiosk is all aluminum custom welded and powder coated to give the kiosk a very long lifespan. Measuring 7.5 feet by 9 feet, the kiosk sports a galley style interior with countertops on the two long sides. Under the countertops reside a ton of storage hidden behind sliding access doors.
The kiosk is completely secured at night or when you are away. All four sides have aluminum extruded, plastic coated roll down security doors. These doors are spring loaded and glide up and down with ease within their steel tracks. Lockable with a custom key lock, these security doors will withstand any traditional attack and will keep your pos station, computers and inventory safe.
Built on 6 inch locking casters, this kiosk will easily glide across smooth concrete surfaces. Once in place, the caster wheels can be locked down and then the supplied aluminum "skirt" can be applied so the unit will look as if built in place. Once the wheels are locked and the skirt is applied the unit cannot be moved. Electrical, lighting and plug outlets are all supplied within this unit for your ease of use. The unit colors and size can be customized for your application.
Customers Also Liked