Mobile Food Carts Supply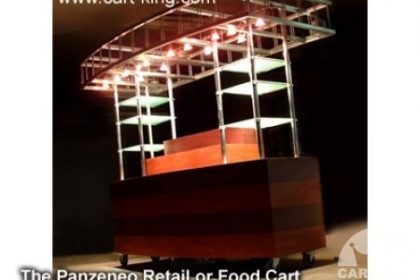 We supply mobile food carts. This beautifully designed and manufactured cart was used for grab and go pastries and coffee service in an airport. This unit was fabricated 3/4 MDF, medium density fiber board, and plastic laminates. The unit was made to have hi-key display shelves with lots of lighting to grab customer attention as they go by. Pastries and other bakery items were displayed on the multi-teired shelves on either side of the unit. The shelves were made with clear plexi-glass to allow the lighting to penetrate all 3 shelf levels to produce a light and joyful effect.
The cart / kiosk shown has a beautiful curved front and a all aluminum fabricated canopy. The canopy was to emulate a brushed nickel effect and was surrounded by a perforated aluminum sheeting which allows for the light to pierce through the holes provideg an agreeable effect.  The unit rides on 6 locking casters and has large locking inventory storage which later housed a fridge and dry storage. The unit base also sports two "wing doors" which would extend do the unit could be backed into a corner or againsta wall to produce a large U shaped unit which keeps customers from walking behind the kiosk.
Customers Also Liked