Mobile Retail Stands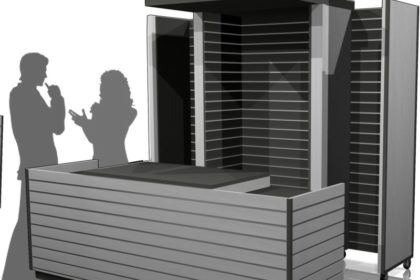 This unique mobile retail stand was designed for a customer in Niagra Falls who wanted without having the encumbrance of rolldown locking doors. The roll down locking doors are a great option when your budget allows. Frankly roll down walking doors are quite expensive when used. They can add anywhere from eight to ten thousand dollars.
This is a clever mobile retail stand design in which the side wings shown are hinged and will swing closed at the end of the day to turn this unit into a box on wheels accessed from the outside. A lock is used on the exterior of the closed unit to secure it in the evening hours. This unit is adaptable to any type of environment indoors or outdoors. It can be made larger or smaller.  It can be used for retail or dry goods display. The front counter is on wheels to move about and to provide a point of sale for the vendor.
The interior of the unit is all slatwall display anything he or she desires. Locking storage on the front counter ample room for lots of goods. There is also on the backside that can be accessed at the vendors requirements. Lighting and electrical can be incorporated this unit can come in any color as you wish and we can fabricate from aluminum for outdoors, wood and laminates for indoors.
Customers Also Liked