Outdoor Coffee Kiosks
/
Monday, 22 April 2013
/
Published in
$20,001-30,000
,
Coffee Pushcart
,
Concession Stands
,
Concession Trailers
,
Food Stands
,
Mobile Food
,
Outdoor Retail
,
Pushcarts
,
Retail Display
,
RMUs and Retail Carts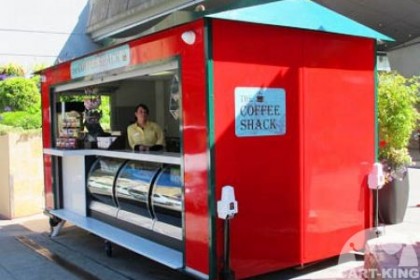 This outdoor coffee kiosk is designed and manufactured for exterior use at the Hilton Hotel in San Francisco. The outdoor kiosk is used for cafe', espresso, coffee, food and beverage catering service. Made with 100% custom welded aluminum, the outdoor kiosk highly secure and safe when unattended.  The unit is on casters for mobile transfer to another location at your leisure. The outdoor coffee kiosk has electrical outlets, breaker panel, lighting and a POS area. The outdoor unit can be designed and manufactured in many different ways, such as a peaked roof, sloped roof or flat roof. Cart-king can provide these food and coffee kiosks with signage, electrical and illuminated or simple graphical vinyl stickers which can adorn the unit's sides and top.
The food concession by Cart-King is adept at outdoor transformation, exterior and interior lighting will enable the vendor to use this kiosk at night. We can also include self contained sink units, 1-4 basins to suit your local state health codes. The "outdoor food kiosk" shown unit can be painted in any color you wish and the unit can be adorned in food cart graphics and signage to compete the look you are wanting to attain. Food carts and kiosks are growing in numbers for the reason that the individual can be his or her own boss and own their own business.
This all aluminum cart has the major advantage of lasting 20 years plus and should look almost as good as the day it was delivered always if taken care of. Aluminum does not fade, crack, wear etc like wood does. Aluminum is very strong, relatively light-weight and comes in any color you can imagine. This outdoor coffee kiosk will last and look good forever. Locking casters, locking inventory storage, heavy duty construction. Aluminum canopy. Electrical lighting and plugs can be added. This unit can be designed to contain fridges, freezers, coffee stations etc. Any size or dimensions can be provided.
The unit shown is 7 x 14 foot dimensions. This coffee Concession was designed as the Portland Food Carts are. Fully lock-able at night, this food cart is also a coffee cart and a beverage cart.  Portland coffee and food carts are very popular and offer just about any type of food one can imagine. These carts may come equipped with a fully operational kitchen, including: display fridges, running water, locking cupboards, pop machines, heating plates, cash registers and full electrical and lighting.
This particular Portland Food Cart Style was applied at the Hilton in downtown San Francisco. These revenues generated by way of food cart sales from this unit are usually very high. The cash flow depends on your traffic flow and your food cart offerings. Portland has the highest number of food carts per capita within the continental US.  Call us at Cart-King so we can design a Portland Food Cart Style for you.
Customers Also Liked