Secure Outdoor Retail Carts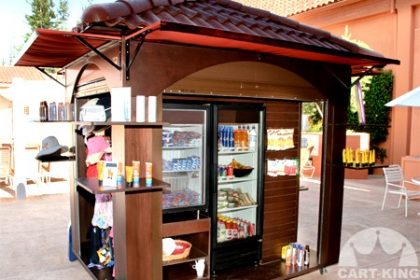 Mobile Retail Display…Anywhere!
Our custom outdoor retail cart units are intended for many different applications, pools, hotels, resorts, shopping malls, zoos etc. The unit shown was designed for Bay Athletics Clubs in California. We will go on to explain this cart in general to outline reasons for design and applications behind them.
This merchandising cart can be used for retail, food, and beverages. This unit can be made with wood or aluminum exteriors. Powder coated aluminum does last much longer than wood but is nominally more expensive.  The point of sales desk is lit with halogen lighting and lockable. Floor to ceiling slat-wall on 3 sides for maximum retail presentation. One side has a fridge and freezer contained option therein…the 4th side provides you a full POS area. This is contained with plugs, lighting and locking storage on this retail, beverage and food kiosk.
The peaked roofing and roll-down doors are repelling guarantees against the wind and rain.This cart unit has a well planned out display interior intended to display your wares significantly under direct, hi-key halogen lighting. This cart style is tough on the outside and beautiful on the inside.Not seen is the large inventory storage behind the merchandise walls which contains a total of 125 cubic feet of storage space and switchable lighting which allows this food, beverage and retail kiosk to be chalk full with inventory. Four large aluminum extruded roll-down locking doors secure the unit at night complete this high-security Outdoor Kiosk – Food, Beverage and Retail package!
The unit has strategically placed two "eye-level" shelves on all 4 posts for a combination of eight highly view-able areas for product display. The unit also has 6 lock-able casters which allows the vendor to move the unit from one place to another to take advantage of changing customer traffic trends. Cart-King International has been manufacturing and delivering carts and kiosks such as this outdoor food, beverage and retail kiosk for over 10 years.
See below for further concepts and ideas based on this original outdoor unit.
Customers Also Liked