Pool Retail Display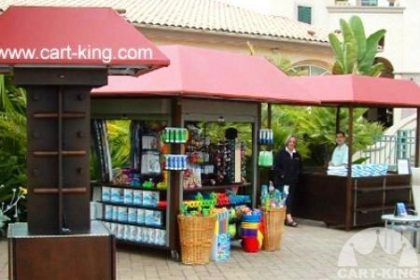 Pool Retail Display – Turn Your Pools Into Profit Centers
Your Hotel will profit with our pool side cart collection! The "Merchandise Retailer", the "Hair Wrap Station" and the "Towel Merchandiser" were designed for the Mission Bay Hilton, in San Diego. These pool retail display can offer your guests a range of goods and services turning your poolside into square profits. Beautiful traditional styling, aluminum welded canopies with stretched rubberized canvas. We can make these units any type of colour or stain, we can add your logos and styling. Everything we do is custom at Cart-King.
The Retail Pool Cart:  The rolldown security doors lockup the main retail unit when you are away at night or taking a break during the day. Cart-King can modify this design in many ways to suit your needs. The unit shown is an 6 x 6 foot print and 8′ x 8 canopy footprint and stands 9′ tall. We can make this unit unit smaller or larger. We can also make this unit out of aluminum. Sell hats, creams, sunglasses, pool toys, souvenirs etc. This outdoor kiosk with roll-down doors can be easily be modified in any colors or styles you want to match the kiosk surroundings while enhancing your products.
The Hair Wrap Station: This retail merchandising unit, (RMU), is built for primarily for hair wrapping products. Many women do not want to get their hair wet and will be happy your hotel offers bandanas, bobby pins, elastic loops and hair scrunchies. All the aforementioned items are high margin and profit items. Make your guest happy while your hotel pulls the profits. This unit has 4 wooden sides which flip up to encase the unit securely at night.
The Towel Vendor:  This  unit is designed to vend pool towels. Many of your guests will be happy to note that you can offer them extra comforts such as larger, more plush towels and cozy house coats and slippers for poolside use. The unit shown measure 8 x 8, has locking under-counter storage, electrical, lighting and exterior adjustable shelving.
Cart-King International has been manufacturing and delivering carts and kiosks such as this outdoor food, beverage and retail kiosk for over 10 years. We specialize in outdoor retail merchandising unit, food and beverage carts and kiosks, see below for further information on our beautiful hand crafted kiosks. Our kiosks can be modified for any food or retail requirements, please call us for info.
Customers Also Liked