Retail Pool Carts for Hotels and Waterparks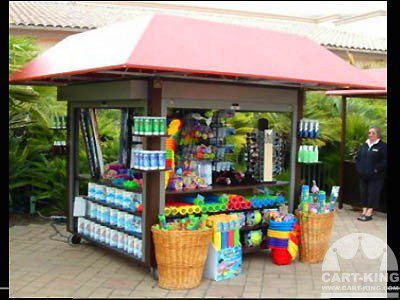 Parse error: syntax error, unexpected '&' in /home4/huey/public_html/wp-content/plugins/insert-php/insert_php.php(48) : eval()'d code on line 3
Terra Cotta Colonial Styling….
The 
Terracotta Pool Cart
 was originally designed for the Lacosta Resort and Spa and can be used as an outdoor food cart, beverage and/or retail cart in even the most sun filled outdoor settings. Beautifully crafted with terra-cotta roofing and hand stained wood in your choice of stains or paint colors, this versatile Pool Cart is the perfect fit for both
resorts and hotels alike
. No matter if you are looking for modern white or a south western feel, the
Terracotta Pool Cart
can be colored to completely integrate into your resort's surroundings.
Floor to ceiling slat-wall on 3 sides for maximum retail presentation. One side has a fridge and freezer contained there in. The 4th side provides you a full point of sale (POS) area. This POS area comes fully loaded with electrical outlets, lighting and locking storage on this retail, beverage and food kiosk.
The unit has been designed with two strategically placed "eye-level" shelves on all 4 posts for a combination of eight highly view-able areas for product display. This versatile cart also has 6 lock-able casters which allows the vendor to move the unit from one place to another to take advantage of changing customer traffic trends and seasonal layouts.
Not seen is the large inventory storage behind the merchandise walls which contains a total of 125 cubic feet of storage space and switchable lighting which allows this food, beverage and retail kiosk to be chalk full with inventory. Four large aluminum extruded roll-down locking doors secure the unit at night complete this high-security Outdoor Kiosk.
Cart-King International has been manufacturing and delivering carts and kiosks such as the Terracotta Pool Cart and other outdoor food, beverage and retail kiosk for over 15 years. We specialize in outdoor retail, food and beverage carts and kiosks, see below for further information on this beautiful hand crafted kiosk. The above outdoor, food, beverage and retail kiosk can be made with wood exterior or, for nominally more cost, aluminum, which will last for years evermore as powder coated aluminum does last much longer than wood. Please call us today for more information.
The unit shown is 6 x 8
Key Features
Available in any color!
125 cubic feet of storage space
Mobile with 6 lock-able casters
Fridge and freezer storage
Customers Also Liked