Retail Display Carts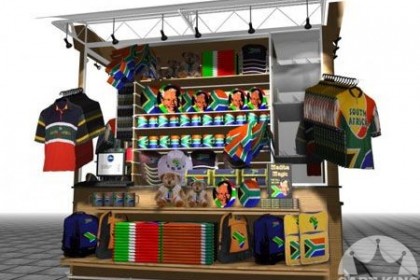 Our custom retail display carts are built with style and business service in mind.
This display cart features many practical elements and features to assist you in the sale of your retail display, and retail cart items. Mall carts and kiosks are here to stay. They are easily added Points of Sale to any mall. The above unit has locking cupboards and doors, directional halogen display lighting, adjustable shelving, POS desk.
Cart-King International specializes in the design and manufacturing of mall grade mobile retail display carts retail display kiosks, and retail carts. Our mobile vending cart and kiosk process starts by you calling us and letting us know what your needs, ideas and product ideas are. We will promptly assist you in designating whether you need a retail display cart, retail mall kiosk, or even possibly a pushcart.
We are a custom mall kiosk and custom mall cart manufacturer we provide a host of ideas for your project. We will define your material needs, glass display, aluminum uprights, mill-worked body and corners. We then use MDF and laminates to complete your list of material requirements. Our custom retail mall cart units and retail carts will fulfill not only your needs but that of the mall. Mall requirements are usually quite high. We will attain the needs of the mall in our custom mall cart unit. This point of sale retail display cart or retail display kiosk will harbor all the features you desire. The custom retail display carts will have your colors, logos and signage added.
This indoor unit can be also used as a jewelry retail and sun glass cart as it was built to sell retail goods in a mall or airport type setting. This unit has may also come with 4 roll-down locking doors, electrical plugs, lighting and locking casters. Jewelry carts and jewelry kiosks are manufactured in many ways by ourselves….we can provide glass display cases or provide display concepts for your particular products. Sun glass carts and sun glass kiosks are very popular and turn over good profit.
We can provide these unit in any color or sizes. The unit shown is 4 x 8 and stands 8 foot tall.
Customers Also Liked