Retail Merchandiser Units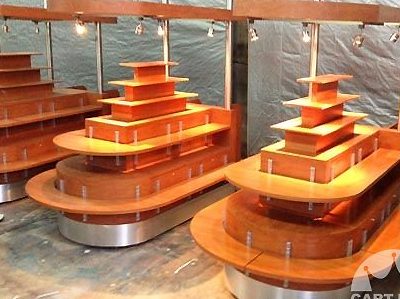 Retail Merchandiser Units  units or modern mall cart concepts are called RMUs . This RMU (retail merchandising units), has floor to ceiling styling. We provide best deals and design concepts. We fabricate or manufacture units for sale. For purchase or lease. Rounded corners and edges make for a very contemporary and retail merchandising cart look.
Point of Sale (POS) desk, locking drawers, electrical plugs and a data line connector are all included. This retail merchandising unit can come equipped with a security curtain for extra security at night. Some of our merchandisers have roll-down locking doors. The shopping mall retail merchandiser units shown also includes 6 locking casters, retail display lighting and electrical plugs…these units are built to sell every product imaginable. The RMU has been around for 15-20 years.Experts know that RMU unit (retail merchandiser unit) units will sell more retail goods in a per square footage basis than the in-line stores. Talk about efficient! Cart Kings RMUs are beautiful, styled with grace and pizzazz. A huge storage area are also features of this beautiful retail cart unit. Dynamic shelving, canopy lighting, and locking cupboards complete this RMU, retail merchandising unit. We have many other examples of RMU units on our website, we have indoor RMUs, outdoor RMUs and exterior RMUs .
Customers Also Liked