Slatwall Display Retail Cart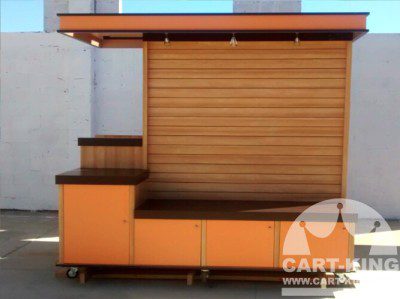 Light Up Your Retail!
This beautiful slatwall retail display cart was designed for a high end Bicycle Casino. This unit has 2 sides to display retail items in multiple configurations. The idea was to provide a broad and high display area on two sides to gain maximum exposure of the clients products to consumers and shoppers.A shopping consumer is immediately presented with everything the vendor has to offer at a glance making this display unique.
The unit has ample locking storage, and nickel handles. Hi-Key directional halogen lighting is utilized to highlight the slatwall display areas.  Of course we can provide this unit in whatever colors you wish. This unit was made with hi-grade plywood. The custom slatwall unit is very unique and attractive in many different ways. The underside of the canopy shows the detailed custom work we provide.  Lighting is incorporated into the overhead canopy display area. The cash register pedestal has grommet holes for the computer terminals cables which will plug into electrical outlets provided below. A secondary pedestal in these images used for a small red bull display. The vendor was able to provide not only retail goods but also cold beverages hot Nevada enviorenment.
We have been designing and manufacturing retail display for many years. We are experts in working with our clients to determine what their needs are and then addressing them with the perfect and ultimate solution for their applications. We are here to help you so please call us have any questions.
Customers Also Liked