Food and Beverage Vending Kiosks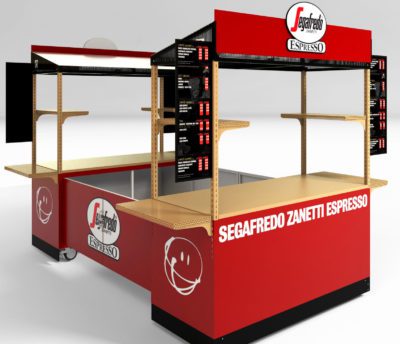 Mobile Vending on a Small Budget…
This mobile vending kiosk is perfect to sell anything really, food, coffee, beverages or beverages at malls, busy streets, bus stands and rail stations. Available in custom graphical wrap colors and attractive designs, this stand is  7.5  foot wide and 2.5 foot deep. With a range of possibilities and equipment options. We can also tailor this attractive cart as per the needs of your mobile  business concept, (please call us for more info).
We offer food carts for sale. Your small concession cart on wheels will give you the convenience for basic vending. There is ample room for food storage and point of sale register. You can easily prepare and serve to your customers from this concession unit. We can also add a small fridge for cold beverages and sodas. This cart unit can be vended from on the front-side where you might add stools for customers wanting to sit and enjoy. The backside of this unit also has a sunshade if you wish to utilize the unit outside.  This cart  is large enough to be attended by 2 salespersons. 
This mobile stand is simple to maintain and requires less licensing than large food trucks. So if you need a cost effective cart to kick start your mobile business, this is the perfect option. Another advantage of this cart is its mobility. This light weight stand on wheels can be easily transferred to different locations and does not occupy much space. Only weighs 300 lbs.
Sink Attachment: This is a 4 Basin, self contained sink which fulfills the 50 states food requirement codes. It has hot and cold running water, pump, 4 basins, and is on wheels. See the sink spec here: Sink Unit
Customers Also Liked