Wall Hugger Retail Kiosk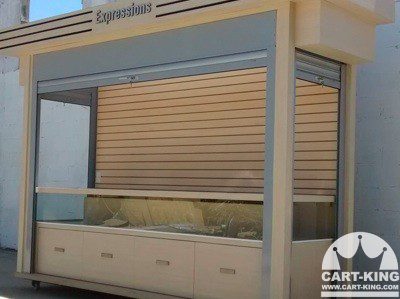 This wall hugger retail kiosk display unit was designed for a very famous hospital called St Judes Children's Hospital in California. This unit measures roughly 10 foot long  and 3 foot wide. The problem the customer had was a long hallway which didn't have enough room for a traditional cart or kiosk. Cart-King designed display kiosk called a "wall hugger".  Wall huggers are open to customer on the on three sides. The base of the unit contained drawers with nickel plated handles. Up from that is a glass display showcase where the customer shows they're more expensive items such as jewelry and other goods.
The glass showcase is accessed by panel doors in the countertop as shown. Above that, is a expanse of slatwall display. Slatwall display enables vendor to offer a variety of goods and the ability to mix and match their display to their requirement. Within the canopy electrical and lighting the lighting consists of high key directional . These lights are used to illuminate display on the slatwall. night time use.
For security, Cart-King designed roll down doors. These roll down doors are made from extruded aluminum to match the clients color scheme. The unit is on locking wheels and can be moved from location to location upon the clients requirements. These wall huggers are an interesting way to approach retail. They offer all the goods and services of a standard kiosk or inline store but in a smaller more confined footprint for any additional information you may need on the units.

Customers Also Liked