Cell Phone Kiosks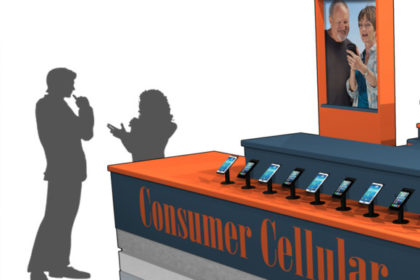 Cell phone kiosk displays are our business. This particular unit was designed for Consumer Cellular. Cart-King loves to design and manufacture cellular displays for shopping malls and indoor and outdoor environments. Our fabrication process consists of initially talking to the client as to what they need. Then we put pen to paper and start designing your 3D model cell phone kiosk display. Once we achieve our goal of impressing you with a mock-up of your cellular phone kiosk, we take it to the next step. Design and manufacture.
Our manufacturing can be done in several different ways for your requirements , we may fabricate out of powder coated aluminum material, aluminum does not rust or fade like laminates in wood will. Aluminum is lightweight cooking forever all of our cell phone kiosks are on wheels which lock . This enables you our customer to move your kiosk at will. the mall does not work for you your phone kiosk to another location in another mall…this is the beauty of kiosk and carts customer trends don't support your business you can move your business to where it is supported.
Your cellular phone kiosk can be made for indoor and outdoor applications. Here at Cart-King we have been designing and manufacturing you also in cards for over 15 years he's call us for more information and we will be happy to help you with all your cel phone and accessories display requirements.

Customers Also Liked