Custom Shopping Mall Retail Carts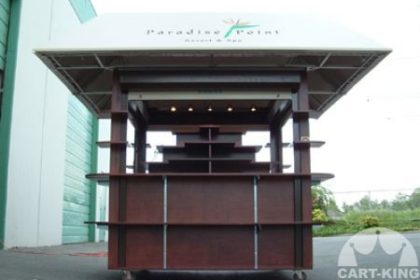 Custom shopping mall Retail Display Units are becoming very popular as a way to generate income. Custom Display Units can beautify as well as upgrade the look of your space. Custom Display Units serve your customers with sugnglasses, ties, scarve, body lotions etc. Cart-King has implemented dozens of "Custom Display" Units over the years with great success. Generally, managers state that the custom retail display Units pay for themselves in the first season which is generally a matter of months.
Custom Retail Display Units can come in any shape, size or colors to match their intended surroundings. These  Custom Display Units unit comes with secure cabinets with locking mechanisms.  Cart-King can modify this design in many ways to suit your needs. This Custom Display Unit can be modified for any retail requirements, please call us for info.
This beautiful retail merchandising unit, (RMU), cart is perfect for any indoor location. The unit has a great deal of storage for inventory hidden within the unit's base. The canopy is a aluminum welded frame with curved plexi glass which will proudly present your logos or brand in graphical wraps etc. This unit is plastic laminate and may be hand stained in any colors you wish and can also be painted any color you want. Hi-key directional lighting and shelves at eye level to keep your product in view. Locking wheels/casters included. We can design and manufacture any unit u wish as the units shown below….
Customers Also Liked