Drive-Thru Coffee Stands
/
Monday, 22 April 2013
/
Published in
$20,001-30,000
,
Coffee Pushcart
,
Concession Stands
,
Concession Trailers
,
Food Stands
,
Mobile Food
,
Outdoor Retail
,
Pushcarts
,
Retail Display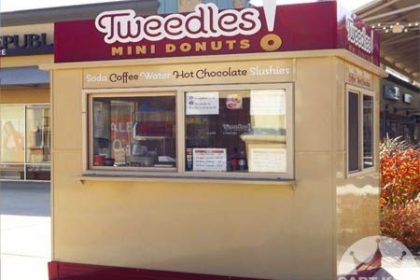 Drive-thru coffee stands and shops are a ever more popular business idea.  Traffic equals sales in today's economy. Coffee, espresso, cappuccino are here to stay, and so is the car! Street concession stand usage is at an all-time high, customer trends are up. Also, food stand usage and vendors are climbing. The food stand shown above happened to be used as a donut kiosk, however the exact same unit could easily be a coffee, beverage, or food stand shops or stores.
Cart-King started with food wood kiosk design and manufacturing but now make a series of outdoor aluminum drive-through security units which can deliver food service or coffee service. The unit above has electrical, lighting, plugs, locking windows, door access, and indoor lighting and accessories. This shop, store and stand unit may be used at any location, hotel, mall, resort or boardwalk applications. Four light-weight but very strong tempered sliding glass windows secure the contents of this unit at night. Hi-key, directional lighting on all four side, exterior "eye-level" post shelves for your best profit margin sales items complete this beautiful and very effective sales platform for parking lots, street side or business parks.
Cart-King beverage stands for sale and concession stands for sale are designed and manufactured by us. We have been manufacturing and designing food stand for quite some time.and concession stand design and manufacturing by Cart-King. Changing customer trends allow the food stand vendor and food stand designer come together to approach the joint project with sales in mind. Our drive thru units are part of our drive-thru food stand and concession stand line-up. Basically a food stand or concession trailer or concession stand is a large outdoor unit. These units are usually quite large and either on casters , (wheels), or on a trailer chassis. In either case the point is that the food stand and concession stand is movable. Mobility is the key when these practical "food service units" are in use.
Street or parking lot level units. Outdoor food and beverage concession stands and kiosks are becoming very popular as they add a new point of sale to any hotel or resort.Most applications report the food and beverage kiosks will pay for themselves in a matter of months, then it is all profit there on in. Please call us today about our tremendous line of pool, beverage, food and retail carts and kiosks.
Customers Also Liked