Jewelry Display Carts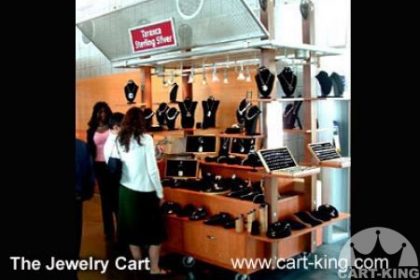 This jewelry display cart was designed for BC Ferries to present different kinds of jewelry on multiple horizontal and vertical levels. Hi-key halogen spotlights illuminate your necklaces and rings provide a sparkling showcase display. Plenty of locking storage drawers for inventory and a cash register pedestal complete this handsome cart unit.
This Modern Cart is also known as RMUs is an excellent retail merchandising (RMUs)unit which very popular for its beautiful styling and practical design.  Hi-key directional lighting makes your goods or services "POP" on display.  These RMUs are available in a multitude of different laminate colors and styles. The double tiered display contains 6 large locking inventory storage drawers. Everything locks up. The POS station has a locking drawer and double locking doors to keep your important goods and receipts. Adjustable shelving adds to all the elements of display possibilities. Gridwall and slatwall options available. Stainless steel posts and kick add the dimension of beauty and decor on this Modern Mall retail merchandising unit.
Use your Jewelry or watch line in a smart and low cost cart or kiosk cost point, sell your jewelry in the middle of a mall rather than getting into the "inline" store concept which does not pay back as uickly as carts and kiosks do in the center of malls. We can make many different styles of versions of a Retail Jewelry Cart for you, ay colors, creations or concepts. This Retail Jewelry Cart or watch kiosk was placed in amongst other carts in the same location. Reports were it had the strongest sales out of all the cart and kiosk vendors.
The vendor had sold silver goods, necklaces, rings, ear-rings etc. What was most interesting was the fact that most items were very expensive dollars in price completely beating away the concept that cart products must be low cost.The unit shown is 4 x 8 but we can make it smaller or larger, add a canopy, locking doors whatever you like.
Customers Also Liked