Mobile Food Cart Manufacturer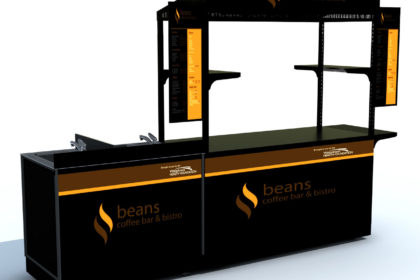 Mobile Food Carts for Every Occasion
We are a mobile food cart manufacturer. The unit shown is made from steel. It is a pre-designed and fabricated food cart. The unit is built for any food or beverage application. We warehouse these units and are pre-fab construction. This means you can order this mobile food / coffee / beverage cart today. The unit will take approximately 2 weeks to land at your location.
The food carts for sale and beverage vendor shown has the ability to add your own personal or business graphics and logos. The unit offers a graphical template download which can be customized, printed, cut and then applied as a graphical wrap to your cart. This will turn a "non custom" pre-fabricated unit, into a fully custom looking cart.
The growing popularity of food cart business is ever present and a growing business prospect. Food cart business is perfect for multiple applications. A food cart business may offer tasty treats poolside such as cart was designed with luxury in mind. Or salty snacks in a parking lot. "Turn your parking lots and pool sides into profit centres!" We are the ultimate food cart manufacturer.
This food cart can also be used indoors or outdoors. This unit is large and made from powder coated steel, not wood,which makes this unit lighter and stronger than wood. Powder coated steel does not fade or chip over the years. This large retail, coffee and food cart is perfect for on-the-spot food service.
This cart's Features Include:
– Budget Saving, Cart with Excellent Design
– Use for Retail, Coffee and Food
– Budget Saving Shipping Cost
– Ability to Transport, Lightweight
– Powder Coated Steel Construction
– To Be Used Outdoors or Indoors
– Detachable Grid-wall Display (for hundreds of grid-wall attachments)
– Four Moveable Shelves, (adjustable up and down)
– Steel Base with Lockable Door for Storage, (or can be used as a cooler)
– Thick, Scratch Resistant ABS Counter-top
– Heavy Duty, (locking), Casters
– Electrical Ready, (Light Module Under Canopy)
We ship these carts the next day and will arrive anywhere in North America within 10 businss days. We always have these carts in stock!
PLEASE CALL US FOR MORE INFORMATION, 1-877-986-7771 or email us
Customers Also Liked