Shopping Mall Kiosk with LCD Display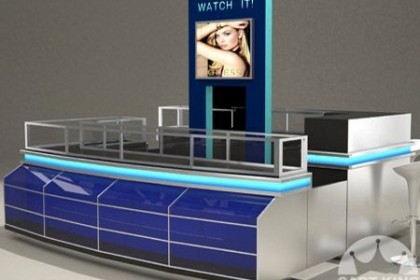 Mall retail kiosks by Cart-King are a blend practicality and sophistication.
This shopping mall retail kiosk display can be modified to suit your needs. This unit was originally designed for Watchit, it is built with wood, laminates, aluminum and glass that will match your ideas and design logos or color sets. Cart-King units are amongst the most innovative "retail display" units on the market today. Just look at the contemporary kiosk, retail styling, display, and hi-technology concepts. The glass kiosk display showcase on either side of the retail mall kiosk offers maximum product display for the design. Notice the interior concepts of the glass retail kiosk display shelves as the dark blue back ground of the kiosk is intended to provide a striking contrast to the products displayed.
This kiosk showcase is great to greet customers, pull them in, then showcase your goods contained within. This glass showcase, mall kiosk is intended to sell retail products: candy, shoes, hand bags, purses or whatever you like. This unit has 6 locking wheels per counter, large locking storage drawers, hi-key cabinet retail lighting and a cash register POS area. Locking doors and drawers.(Light-board and LCD screens)We can also replace the screens with back lit signage, or vinyl decals.The unit can be tailored to be larger or smaller and can range from 4 x 8 to 12 x 16 feet. Retail display kiosk concepts has traditionally been set at typical glass display counter-tops set into a rectangle. Nowadays, your retail display ideas can run far and wild as consumers get a taste for unique glass retail display concepts. Let us here at cart-king provide you with high concepts and designs and a low cost manufacturing cost.
This beautifully designed glass display Kiosk is enhanced with a large LCD display used to draw your customers in to view your beautifully arranged products within the lit glass display cabinetry. Dark blue case back ground enhances your jewelry, gold, silver, diamonds, watches,valuables. The faux curved front adds to the modern design. Interior of the unit contains multiple drawers and locking inventory storage, there is also a work desk/pos station. The backside of the shopping mall cel phone accessories kiosk had a unique stand up presentation display which can be enhanced with stools for your customer's ease as you service their products or sell them your goods… accessories and mobile cel phones.
This unit is 10 x 15, it can be modified to be larger or smaller and can come in any colors you wish.
Customers Also Liked