Mobile Retail Kiosk Stands and Displays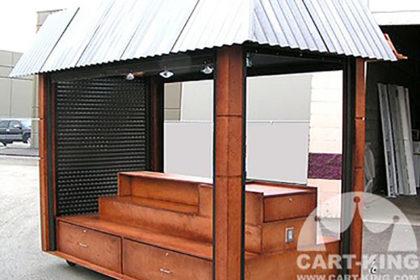 Our Retail Stand and Retail Kiosk design process and ideas come from the heart at Cart-King. Designed for the Nanaimo Public Quay Market..and manufactured to enhance your products. This unit can be made with any color or size. It is hand crafted with a natural wood surface, which can be stained any color, or laminated with any color… and is topped with a beautifully designed faux steel canopy. A POS area, locking storage,  and a dynamic slat wall shelving system are features of this fresh kiosk concept.
RMUs and mall Carts by Cart-King are designed with your specifications and sizes. This ultra cool outdoor retail kiosk  is made from MDF and high-end plastic laminates. It is a very modern take on a more traditional format. This 8 foot long, 4 foot wide unit combines style with practicality. Multiple storage areas, locking casters, locking POS doors and drawers, combined with hi-key directional lighting and beautifully conditioned display shelves. This is certainly a retail kiosk with style.
Modern design and beautiful modern manufacturing is what we do at Cart-King. We manufacture and then deliver anything you require. Available in your choice of finish, cherry wood, walnut or honey stains are available for this unit. Peaked styled canopy comes in your choice of color as well. We will also utilize this concept to change up to your ideas and desires. We can chane size, color or materials. Please call us for more information.
Customers Also Liked