Coffee Kiosks Bar & Sink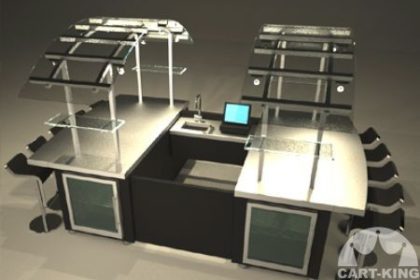 This coffee kiosk is perfect to serve customers on 2 sides. This mobile coffee kiosk is is designed as a small bar service style. Chat to and entertain your espresso and cappuccino drinking crowd as you serve up special coffee, espresso, and cappuccino. Maximize your access to your customers with this self contained kiosk. This espresso and cappuccino kiosk is beautifully designed and manufactured and is perfect for coffee kiosk vendors.
The coffee kiosk base is expandable and can be used as a single or double unit. It  has locking doors on the inside, it also has 2 refrigerators for creams, milks, and condiments. Utilize the overhead canopy on this unit to add your own coffee signage, lighting and coffee to feature cappuccino and espresso specials. Add as many chairs as you wish to this modern design includes water, sink, prep area, electrical and 2 embedded industrial refrigerators. Stainless and black design shown.
Here at Cart-King we are happy to assist you with your design and manufacturing needs. Espresso and Cappuccino kiosks are some of the most popular kiosk designs today. Self contained sink units are manufactured with your requirements so be sure to contact us with your specifications before we build. Refrigerators also have different requirements as well as cappuccino machines and espresso machines. The unit contains a self contained sink which has 3-4 basins for hand washing, utensil cleaning and cappuccino machine, espresso machine or regular coffee and cappuccino service. Just plug this "self contained sink unit" in and have instant hot and cold running water at your finger tips.
Customers Also Liked