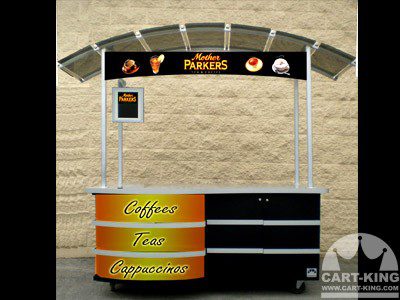 An espresso kiosk with capability! Customize and brand your espresso kiosk cart with whatever colors or logos you wish. We will send you a graphical template in which you can drop in your graphics. We will print and cut your food cart graphics so they can be added to your kiosk which will change the body and canopy to your colors and design.
This espresso kiosk coffee vendor, can also be a food cart and information cart has been designed and built to provide a sales platform for food, beverages, coffee, espresso,retail, or information. They are made from powder coated steel, have four independent, moveable shelves, locking doors, locking casters, sunshade and are 6 x 2.5 foot base and stand 7 feet tall.These espresso carts and beautiful.

This cart has the following features:

– 6 lockable casters
– lockable doors, (can insert fridge below)
– 4 large adjustable vertical display shelves
– canopy attachment (sun-shade included)
– metal skirt to hide wheels
– electrical ready for your needs
– detachable grid-wall and canopy
We have these units in stock and will ship the next business day. Please call us for more information.
Customers Also Liked